At Closet Full of Linens, you'll find the latest in Luxury Designer Linens & bath accessories and elegant custom Yacht bedding. We have the best prices around! Come Browse! Designers – Yves Delorme, Sferra, Designers Guild, Abyss,  Habidecor, Mike + Alley, Ralph Lauren, Pigeon and Poodle, Stamattina, John Matouk,  Avanti, LuLu DK, Bespoke and Schumacher for Matouk, and introducing Peacock Alley Bedding.
Designer Bedding, Sheets, Shams, High Quality Linens, Luxury Towels and Bath Accessories at Closet Full of Linens in Boca Raton, Florida
We Specialize in Luxurious Sheets, Bedding, Towels and Bath Accessories. Our Experts are here to help you with Custom Home and Yacht Decor! Located in South Florida. Shipping Available.
Interior Designers Welcome. Come see why we are in demand!
Closet Full of Linens is Boca Raton, Florida's best kept secret. You will find a selection of the finest luxury bedding and fine linens from reputable designers including: Matouk,  LuLu DK, Bespoke and Shumacher for Matouk, Mike + Ally, Pigeon and Poodle, Yves Delorme, Sferra.
Abyss Towels, Habidecor Rugs, Avanti Towels, Deborah Rhodes Placemats, Stamattina, Designers Guild, Christian Fishbacher, Tableclothes, and Peacock Alley Bedding. Find Luxurious Linens in Boca Raton. Our store features bedding, sheets, shams, pillowcases, duvet covers, pillows, bed sets, bath accessories, table linens and so much more.
Located in South Florida since 1976, we moved to our current location in 1984. Closet Full of Linens caters to those with the most discriminating tastes. Our friendly and knowledgeable staff will help you find the perfect bedding, bath towels, bath accessories and table linens to suit your personal, elegant style.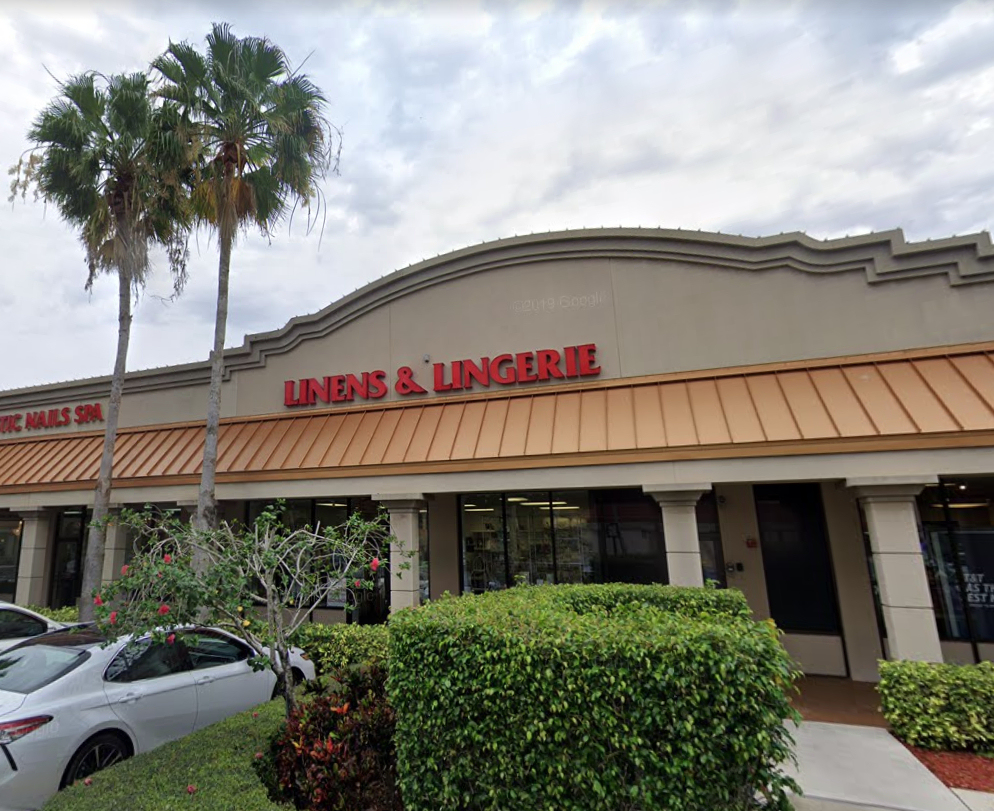 Closet Full of Linens . Linens & Lingerie . Glades Plaza . Boca Raton . Florida
We carry an array of luxury bedding sets and linens that include down alternative comforters, high thread count sheets, pillowcases, pillows, decorative pillows, duvet covers, blankets, blanket covers, shams, coverlets, matelasse coverlets,  quilts, bed skirts, mattress pads, etc. Choose from bath accessories,  fine linens including: bath towels (embellished, Pima cotton, Egyptian cotton, Turkish), terry tub mats, bath rugs, hand towels, wash cloths and bath sheets.
Put the finishing touch on dinner parties or casual dining with dining & table linens including: custom tablecloths, fine tablecloths, linen napkins, placemats and more.
Come Visit Us or Give Us a Call
Indulge Yourself in Luxury Bedding, Bath & Table Linens... You're Worth It!
Closet Full of Linens offers the most sought-after brand name luxury linens with customer service and prices that have kept our customers coming to us for over 46 years. We beat department store white sale prices year 'round!!! Don't wait, come in to see us today or call to place an order. We can accommodate most special or custom orders and will happily ship in-stock items or custom/special orders to anywhere in the United States.
Expert Fine linen and Bedding consultants
What a fantastic discovery! Closet Full of Linens has an incredible selection of gorgeous, fine linens, with every type of look and thread count we were searching for. The knowledgeable, friendly staff were so helpful, that we were able to find the perfect, beautiful and unique linens with the looks that we had in mind, but didn't know how to find! We had everything installed in our home within days and couldn't be happier. And, with the selection of those luxurious towels and the variety of colors, we were able to complete everything with a "one stop shop". Thank you so much and we will be back!!
We purchased a vacation home and I wanted a beautiful bed set that was really good, well made, and would last. I am just so thrilled with this local store, I had to write a review. A week or 2 ago, a friend recommend the Linens and Lingerie store for great bedding. The owner was extremely knowledgeable about all the types of bedding. Who knew? She explained the differences and helped me pick out the most absolutely perfect bedding set! I just love them! Later in the week, I went back to purchase the matching towels and some of their gorgeous bathroom accessories! Truly, they have such beautiful designs. I am extremely happy!!! Thank You Denise!
Shop fine linens in Boca Raton, Delray Beach, Boynton Beach, West Palm Beach, Palm Beach, Parkland, Deerfield Beach, Pompano Beach, Lighthouse Point, Fort Lauderdale, South Beach, Key Biscayne, Coconut Creek, Coral Springs, Margate, Hollywood, Aventura, Miami, Miami Beach, Coral Gables, Kendall, Singer Island, Fisher Island, Star Island, North Miami Beach, Highland Beach, Manalapan, Worth Avenue, Lake Worth, Sunny Isles, Tamarac, Sunrise, Bal Harbour, Weston, Davie, Pembrook Pines, Jupiter, Wilton Manors, Galt Ocean Mile, Gulf Stream, Royal Palm, Tropic Isles, Ocean Ridge, Hypoluxo Island, Lauderdale-by-the-Sea and surrounding areas.
Our fine linens, bedding, sheet sets and towels are also available to out-of-state customers from areas including New York, Connecticut, Washington DC, Maryland, New Jersey, Massachusetts, Michigan, Illinois, Ohio, California, Colorado, Texas etc. We do not ship internationally.
Fine Linens and Bedding store in Boca Raton | Featuring top textile designers:
MATOUK • MIKE + ALLY • YVES DELORME • SFERRA • LULU DK • BESPOKE . SCHUMACHER . STAMATTINA • HABIDECOR RUGS • ABYSS TOWELS • DEBORAH RHODES • CHILEWICH • PIGEON & POODLE • AVANTI TOWELS • PEACOCK ALLEY • CHRISTIAN FISHBACHER • DESIGNERS GUILD